Black vegan leather asymmetrical fringe skirt. 

Slight stretch

Medium weight

Runs Small -

Order one size up
Fits true to size: Model is 175 cm. / 5' 9" in height, Bust - 30", Waist - 24", Hip - 35.5" and wearing a size Small. 
BUST
If possible, get a friend to help. With arms relaxed at your sides, measure the fullest part of your bust, keeping the tape parallel to the floor.
WAIST
Measure around your natural waist (bend sideways - the crease is it) Recommendation: keep one finger between the tape and your body.
HIPS
Stand with your heels together, and measure around the fullest part of your hips, keeping the tape parallel to the floor.
SHOULDER
Shoulder widths are shorter. Have a helping hand hold the beginning of the tape firmly against one side of the shoulder, perpendicular to the shoulder. Wrap the tape firmly across the bust and back of the shoulder blades so that the tape meets the first point. Where the beginning of tape hits on the tape is your measurement.
HEIGHT
Stand in stocking feet with your feet slightly apart and your back to a wall. Measure from the floor to the top of your head. Your height will determine whether you are PETITE, REGULAR, or TALL.
*Items shown on models are designed to fit custom model sizings. Please refer to the item's size chart for accurate sizing information.
*Click on the image to view it in full size.
Customer Reviews
P

United States
I recommend this product
Barbara

United States
I recommend this product
07/15/2020
Great quality skirt
Love this skirt! Can be styled casually with a graphic tee or more formal with a silk blouse.
Victoria N.

United States
I recommend this product
06/26/2020
Fits PERFECTLY
I have never ordered an item that excited me as much as this skirt! I was super nervous it was going to live up to the picture just because I had never ordered from this company prior. My expectations were blown away, the packaging the items come in is super nice and I love how the bags can be reused to store these items for things such as travel! Shipping took a little longer than usual, but that's expected with the current pandemic. What I love most about this skirt is the glove-like fit. I am on the smaller side, 5' 103 lbs so I always have to alter clothes to fit me and I knew this skirt would be impossible to be altered so I took a chance, and I am so happy I did, it fits really well and the strings aren't too long on my short body! I can't wait to wear this skirt in fall and winter. Highly recommend for anyone trying to find that perfect statement skirt.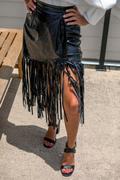 Paris

United States
02/29/2020
Very easy to match
very elegant and fashion midi dress.