Beige colored shorts with a relaxed design, laced side details, a high waist and a tie-belt.
No Stretch
Medium Weight
Loose Fit
Fits true to size: Model is 175 cm. / 5' 9" in height, Bust - 32", Waist - 23", Hip - 34" and wearing a size Small. 
             Lining: 100%Polyester

Numbers shown on this size chart are based on flat product measurements and may differ from actual body measurements.
BUST
If possible, get a friend to help. With arms relaxed at your sides, measure the fullest part of your bust, keeping the tape parallel to the floor.
WAIST
Measure around your natural waist (bend sideways - the crease is it) Recommendation: keep one finger between the tape and your body.
HIPS
Stand with your heels together, and measure around the fullest part of your hips, keeping the tape parallel to the floor.
SHOULDER
Shoulder widths are shorter. Have a helping hand hold the beginning of the tape firmly against one side of the shoulder, perpendicular to the shoulder. Wrap the tape firmly across the bust and back of the shoulder blades so that the tape meets the first point. Where the beginning of tape hits on the tape is your measurement.
HEIGHT
Stand in stocking feet with your feet slightly apart and your back to a wall. Measure from the floor to the top of your head. Your height will determine whether you are PETITE, REGULAR, or TALL.
*Click on the image to view it in full size.
Customer Reviews
Phoebe L.
United States
I recommend this product
05/04/2020
good fit
nice shorts also very comfortable
Erica L.
United States
I recommend this product
02/12/2020
Go to summer shorts
I've been loving the tailored shorts look lately and these are perfect! they're just the right amount of baggy without being way too loose, which is hard because I'm relatively petite (5'3" and 103 pounds), but they're also soft without wrinkling when I wear them. Can't wait for warmer days to roll around so I can finally break them out with crop tops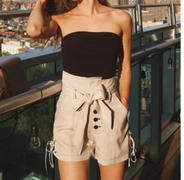 SL
Soeun L.
United States
I recommend this product
02/03/2020
Cool Shorts
I like the contrast stitching on these shorts and the lace-up sides, makes them feel a little more special. They're good neutral comfy shorts, I'd wear them in the summer with a crop top or cami! The buttons down the front are kind of covered in the photos but you can show them more if you want by tying the belt to the side.