Light pink oversize sweater with dolman sleeves, decorative embroidered details, a ribbed V-neck collar and relaxed fit.
This casual and cozy sweater looks stylish with your favorite ankle-cropped denim or silky midi skirt.
Medium stretch
Medium weight
Relaxed fit
Fits true to size: Model is 175 cm. / 5' 9" in height, Bust - 30", Waist - 24", Hip - 35.5" and wearing a size Small. 
BUST
If possible, get a friend to help. With arms relaxed at your sides, measure the fullest part of your bust, keeping the tape parallel to the floor.
WAIST
Measure around your natural waist (bend sideways - the crease is it) Recommendation: keep one finger between the tape and your body.
HIPS
Stand with your heels together, and measure around the fullest part of your hips, keeping the tape parallel to the floor.
SHOULDER
Shoulder widths are shorter. Have a helping hand hold the beginning of the tape firmly against one side of the shoulder, perpendicular to the shoulder. Wrap the tape firmly across the bust and back of the shoulder blades so that the tape meets the first point. Where the beginning of tape hits on the tape is your measurement.
HEIGHT
Stand in stocking feet with your feet slightly apart and your back to a wall. Measure from the floor to the top of your head. Your height will determine whether you are PETITE, REGULAR, or TALL.
*Items shown on models are designed to fit custom model sizings. Please refer to the item's size chart for accurate sizing information.
*Click on the image to view it in full size.
Customer Reviews
Filter Reviews:
tiktok
channel
draw
closet
sweater
fabric
Jordan T. Alexander

United States
I recommend this product
12/10/2020
Perfect In Pink Sweater
This sweater is such a cute staple in my closet. It's super soft and comfy. Really easy to be dressed up or down. The only draw back is that the fabric doesn't drape as much as it drenches you in the sweater. It's EXTREMELY over sized. All and all I love it. I love to style it (which you can see on my tiktok/yt channel)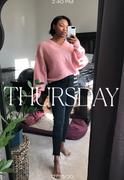 Diana M.

United States
I recommend this product
01/22/2020
Lovely
This sweater is a gorgeous color. It's nice and medium thick so it's not too cold but not over barely warm. The arms add a unique touch but slightly large for me.