Nancy Peek-a-Boo Panel Trench Coat
FINAL SALE

Extra 25% off with code SUMMER
The Nancy Peek-a-Boo Panel Trench Coat is a classic take on the original trench coat, with a negative panel peek-a-boo twist that reveal s a blue and white striped pattern for contrast and intrigue. Its belted waist, oversize cuff buickles and knee-length cut make it a feminine yet fierce way to wear the trench coat.
Relaxed fit
Fits true to size: Model is 175 cm. / 5' 9" in height and wearing a size Small.
Materials: 63% Cotton
                  37% Polyester
                  Lining: 100% Polyester 
Numbers shown on this size chart are based on flat product measurements and may differ from actual body measurements.
BUST
If possible, get a friend to help. With arms relaxed at your sides, measure the fullest part of your bust, keeping the tape parallel to the floor.
WAIST
Measure around your natural waist (bend sideways - the crease is it) Recommendation: keep one finger between the tape and your body.
HIPS
Stand with your heels together, and measure around the fullest part of your hips, keeping the tape parallel to the floor.
SHOULDER
Shoulder widths are shorter. Have a helping hand hold the beginning of the tape firmly against one side of the shoulder, perpendicular to the shoulder. Wrap the tape firmly across the bust and back of the shoulder blades so that the tape meets the first point. Where the beginning of tape hits on the tape is your measurement.
HEIGHT
Stand in stocking feet with your feet slightly apart and your back to a wall. Measure from the floor to the top of your head. Your height will determine whether you are PETITE, REGULAR, or TALL.
*Click on the image to view it in full size.
Customer Reviews
Emma
I recommend this product
08/19/2019
The Trench Coat made my day !
Usually, I wear size M, but I choose Size S this time cuz I won't wear any knit inside of it, for me, the tank plus silk scarf will be enough. So, It perfectly shows a little bit oversize and effortless style!! I strongly recommend it, actually, a lot of friends ask me when I post on my snap chat... Anyway, love it ❤️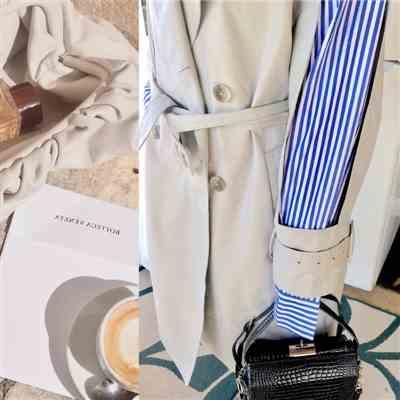 Blessing .
United States
I recommend this product
12/21/2019
Best Coat Ever
I love this coat. It fits perfectly and the little details are amazing! I get a lot of compliments whenever I were this coat. I am definitely happy with this purchase