Brit Orange Knit Cardigan
FINAL SALE

Seasonal Clearance
Bright orange fuzzy-knit cardigan with a cropped length and grey contrast trim along the hemlines.
Moderate stretch
Medium weight
Close fit
Fits true to size: Model is 175 cm. / 5' 9" in height, Bust - 30", Waist - 24", Hip - 35.5" and wearing a size Small. 
BUST
If possible, get a friend to help. With arms relaxed at your sides, measure the fullest part of your bust, keeping the tape parallel to the floor.
WAIST
Measure around your natural waist (bend sideways - the crease is it) Recommendation: keep one finger between the tape and your body.
HIPS
Stand with your heels together, and measure around the fullest part of your hips, keeping the tape parallel to the floor.
SHOULDER
Shoulder widths are shorter. Have a helping hand hold the beginning of the tape firmly against one side of the shoulder, perpendicular to the shoulder. Wrap the tape firmly across the bust and back of the shoulder blades so that the tape meets the first point. Where the beginning of tape hits on the tape is your measurement.
HEIGHT
Stand in stocking feet with your feet slightly apart and your back to a wall. Measure from the floor to the top of your head. Your height will determine whether you are PETITE, REGULAR, or TALL.
*Click on the image to view it in full size.
Customer Reviews
09/03/2019
Ugh, I adore this cardigan
This cardigan is SO so cute. It's so much softer than I had imagined and it's super stretchy. The fit is perfect and it looks so good over anything. I'm wearing it over another J.ING blouse I got from their warehouse sale (score!!!) and it's an unexpectedly cute look. I'm considering getting the dark navy and white one too, just because this one is so cute. It's super lightweight and not too hot at all. Utterly in love with the color and look of this. I got this in size small and i'm 5'4", 104 lbs.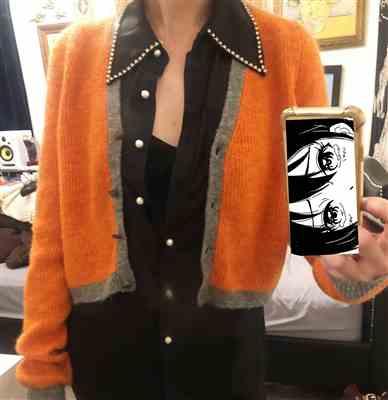 Chloe
United States
01/17/2020
Nice, bit short
overall is nice, pretty, but a little bit too short.