Pearly teeth, pearly sheen. Turn heads in the silkiest ivory satin blouse. Featuring a collared neck, statement buttons and quarter-length sleeves. Dress up with classy trousers or tie in front for a casual yet sophisticated look.
No stretch
Light weight
Relaxed fit
Fabric: 100%Polyester
Fits true to size: Model is 173 cm/5'8" tall, 32" bust, 23" waist and 35" hip and wears a size S.
Machine Wash at or below 30°C. Do not bleach. Line dry in shade. Iron cool.
BUST
If possible, get a friend to help. With arms relaxed at your sides, measure the fullest part of your bust, keeping the tape parallel to the floor.
WAIST
Measure around your natural waist (bend sideways - the crease is it) Recommendation: keep one finger between the tape and your body.
HIPS
Stand with your heels together, and measure around the fullest part of your hips, keeping the tape parallel to the floor.
SHOULDER
Shoulder widths are shorter. Have a helping hand hold the beginning of the tape firmly against one side of the shoulder, perpendicular to the shoulder. Wrap the tape firmly across the bust and back of the shoulder blades so that the tape meets the first point. Where the beginning of tape hits on the tape is your measurement.
HEIGHT
Stand in stocking feet with your feet slightly apart and your back to a wall. Measure from the floor to the top of your head. Your height will determine whether you are PETITE, REGULAR, or TALL.
*Click on the image to view it in full size.
Customer Reviews
Filter Reviews:
blouse
material
color
buttons
turtleneck
ivory
pearl
layering piece
skin
example
Johanna
Germany
I recommend this product
10/30/2020
Perfectly Pearly, classy and cute!
This blouse is simply an all around great piece! Not only is it breathable, but it's classy and cute! The silky satin material is super soft and gentle on the skin. Because of its loose fit, it also makes for a perfect layering piece, for example over a turtleneck. I bought the blouse in ivory and ivory goes well with countless colors. Plus, it's versatile; you can dress it up or down. It might seem like a simple piece, but the silky satin material definitely makes you look effortlessly chic.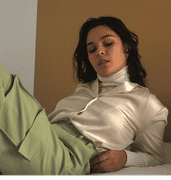 Lily
United States
I recommend this product
10/28/2020
Good
I love this blouse so much. It looks very elegant and cool!
Penny
United States
I recommend this product
10/27/2020
Nice
The blouse is in nice quality!
Ellie
United States
I recommend this product
10/27/2020
Best
This blouse is the best one that I have ever had!
Meme
United States
I recommend this product
10/26/2020
Perfect
This blouse is so perfect! I love it so much!