Sheer grey short sleeve button-up blouse with
 snakeskin pattern 
and iridescent details. Button-fastened short sleeves and a notched collar.
No Stretch
Lightweight
Relaxed Fit
Fits true to size: Model is 175 cm. / 5' 9" in height, Bust - 32", Waist - 23", Hip - 34" and wearing a size Small. 
BUST
If possible, get a friend to help. With arms relaxed at your sides, measure the fullest part of your bust, keeping the tape parallel to the floor.
WAIST
Measure around your natural waist (bend sideways - the crease is it) Recommendation: keep one finger between the tape and your body.
HIPS
Stand with your heels together, and measure around the fullest part of your hips, keeping the tape parallel to the floor.
SHOULDER
Shoulder widths are shorter. Have a helping hand hold the beginning of the tape firmly against one side of the shoulder, perpendicular to the shoulder. Wrap the tape firmly across the bust and back of the shoulder blades so that the tape meets the first point. Where the beginning of tape hits on the tape is your measurement.
HEIGHT
Stand in stocking feet with your feet slightly apart and your back to a wall. Measure from the floor to the top of your head. Your height will determine whether you are PETITE, REGULAR, or TALL.
*Items shown on models are designed to fit custom model sizings. Please refer to the item's size chart for accurate sizing information.
*Click on the image to view it in full size.
Customer Reviews
Cece .

United States
I recommend this product
06/15/2020
10/10
I love animal prints. This snakeskin pattern is amazing. The design is very thoughtful - it comes with an inner camisole. So don't worry about the material being see-through.
Maggie

United States
I recommend this product
06/15/2020
LOVE IT
I love the pattern so much and this top is great for summer becuz its breathable and lightweight. I pair it with jeans and they look perfect together!
MamieL
I recommend this product
06/09/2020
Eye Catching Print
Great summer shirt. My most fashionable coworker complimented me on it! Very lightweight but not sheer.
jacky
I recommend this product
05/24/2019
Exactly what I wanted
I bought this shirt in extra small (5'4" around 106 lbs) and it's a perfect fit! The shirt comes with an inner camisole that is grey and not attached to the shirt, so you can wear it with or without it. I love how the shirt is sheer and can be worn buttoned or unbuttoned if you have something underneath. I personally ordered it to wear with the snakeskin mini and I'm in love. Very nice material. I posted my outfit in the review i just wrote for the skirt but i'll post it again over here too. So glad I had the $15 gift card I got from the Easter sale to sweeten the promotion going on, but otherwise i'd still pay full amount for these items now knowing that they are actually good quality and fit me well.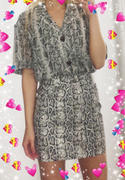 Grace

United States
I recommend this product
06/12/2020
A
Soft material. Not see through. It comes with a grey camisole.