Abelia Off-the-Shoulder Blouse
White and pink peony surplice long-sleeve top with ruffled trimming, a smocked bodice, off-the-shoulder neckline and ruched sleeve cuffs.

Moderate stretch
Lightweight
Regular fit
Fits true to size: Model is 175 cm. / 5' 9" in height, Bust - 30", Waist - 24", Hip - 35.5" and wearing a size Small.
Fabric:100% Polyester

Numbers shown on this size chart are based on flat product measurements and may differ from actual body measurements.
BUST
If possible, get a friend to help. With arms relaxed at your sides, measure the fullest part of your bust, keeping the tape parallel to the floor.
WAIST
Measure around your natural waist (bend sideways - the crease is it) Recommendation: keep one finger between the tape and your body.
HIPS
Stand with your heels together, and measure around the fullest part of your hips, keeping the tape parallel to the floor.
SHOULDER
Shoulder widths are shorter. Have a helping hand hold the beginning of the tape firmly against one side of the shoulder, perpendicular to the shoulder. Wrap the tape firmly across the bust and back of the shoulder blades so that the tape meets the first point. Where the beginning of tape hits on the tape is your measurement.
HEIGHT
Stand in stocking feet with your feet slightly apart and your back to a wall. Measure from the floor to the top of your head. Your height will determine whether you are PETITE, REGULAR, or TALL.
*Click on the image to view it in full size.
Customer Reviews
YUXIN H.
United States
I recommend this product
Jan
I recommend this product
CChen
United States
I recommend this product
05/25/2020
Perfect for the summer!!
The fabric is so beautiful and light! Very comfortable to wear. I was worried that the xs which is my usual size would be too small, but it fit perfectly. I think small will fit fine too. The sleeves were shorter, probably closer to 3/4. One layer of the fabric is sheer, but provides good coverage with two layers. Recommend!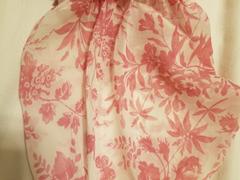 yan
United States
I recommend this product
04/23/2020
such a cute top
this is such a cute top, love the color and material, goes really nice with shorts or jeans. i am going to buy the white color as well. highly recommended
Kayce
United States
I recommend this product
04/06/2020
really cute
this style is so trendy and I like the pattern and color. It looks good with my white pants and jeans. Definitely recommend to buy it!