White polka-dot off-the-shoulder mini dress with a tapered waist and romantic puff sleeves. Fun and flirty, perfect for twirling around at that summer party.
No Stretch
Medium Weight
Loose Fit
Size runs small,recommend one size up
Fits true to size: Model is 175 cm. / 5' 9" in height and wearing a size Small.
5% Viscose
Lining: 95.4% Polyester, 4.6%Spandex
Free standard shipping for U.S. orders $79+

Items may ship separately depending on the order location/inventory.

Tracking info will be emailed within 48 hours after order departure.

Orders may take 1 - 5 days to process.
Discounted Return label provided for U.S. orders only. 
Refund for return can only be issued via the original payment method or store credit. No exchange at this moment.
Due to the impact of COVID-19 and increased order volumes, orders may be delayed. Return period extended to 30 days.
Customer Reviews
Filter Reviews:
dress
waist
size
sleeves
medium
length
compliments
design
material
Skirt
Dayanara S.

United States
I recommend this product
JL

United States
I recommend this product
09/01/2021
The ONLY dress you NEED
I can't express how angelic this dress looks. It was packaged so beautifully that I didn't want to take it out and throw out at the box. At the same time, I couldn't wait to try it one. The dress is more than I expected. It is so soft, fluffy, and airy. The puffiness is there, which is so rare for most dresses out there. The elastic bands on the sleeves are also not too tight and make sure nothing slips. The dress is also double-lined for volume and structure. I didn't even need to wear a bra or sticker, which is perfect for the off-shoulder look. You can also pull up the sleeves for a different look. The waist also has a slight corset feeling which snatches my wist and makes me look thin. Overall this dress hgihlightsthe most feminie and delicate places: the collar, waist, and calve. When you twirl, the different layers fly and look so beautiful. Perfect for anyday! I wore this to the museum, on my birthday, on a picnic, on a night out, etc. This dress truly made me feel so confident and a loyal and regular buyer from Jing. If you have any doubts, don't! You will completely fall in love! I wanted to get a display rack jsut for this dress! It is truly a master piece.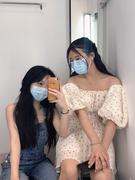 Sophia

United States
I recommend this product
Karen

United States
I recommend this product
08/25/2021
Cute flowy dress
This dress is so princessy. It is flowy and just so pretty. The material is thick and not see-through. It can be worn either for a casual park date or even more formal event as well. It's really pretty for spring and summer!
lia

United States
I recommend this product
07/12/2021
Want to give more 5 stars
I got many many compliments !!! This dress is so sweet and good quality.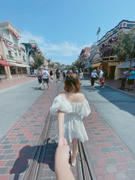 Congratulations! Your review photo of the Garland Garden Dress was picked as the winner of our #MyJINGstyle. You will then receive a $100 gift card from J.ING with NO expiration date! This gift card can be used for any order and on top of any coupon code! Meanwhile, we are wondering if it is OK to use your gorgeous photo for any commercial and non-commercial use? If you have an Instagram account can provide, we can tag you on our Instagram as well! Please simply reply to this email with your permission! (P.S If we don't hear back from you within 24 hours, we will consider you giving up this opportunity.) For more information about #MyJINGStyle and the review program, please visit https://jingus.com/pages/myjingstyle-review-program. Thank you again for your support! We look forward to hearing from you!