Motor Black Leather Skirt
FINAL SALE

Black mini skirt with a belted waist, scalloped waistline and vegan leather material.

Close fit
Slight stretch
Medium weight
Fits true to size: Model is 175 cm. / 5' 9" in height, Bust - 30", Waist - 24", Hip - 35.5" and wearing a size Small. 
Numbers shown on this size chart are based on flat product measurements and may differ from actual body measurements.
BUST
If possible, get a friend to help. With arms relaxed at your sides, measure the fullest part of your bust, keeping the tape parallel to the floor.
WAIST
Measure around your natural waist (bend sideways - the crease is it) Recommendation: keep one finger between the tape and your body.
HIPS
Stand with your heels together, and measure around the fullest part of your hips, keeping the tape parallel to the floor.
SHOULDER
Shoulder widths are shorter. Have a helping hand hold the beginning of the tape firmly against one side of the shoulder, perpendicular to the shoulder. Wrap the tape firmly across the bust and back of the shoulder blades so that the tape meets the first point. Where the beginning of tape hits on the tape is your measurement.
HEIGHT
Stand in stocking feet with your feet slightly apart and your back to a wall. Measure from the floor to the top of your head. Your height will determine whether you are PETITE, REGULAR, or TALL.
*Click on the image to view it in full size.
Customer Reviews
Tiffany J.
United States
I recommend this product
06/12/2020
Buy this!
If you like skirts, get this! It's not too tight in the wrong places and looks really chic.
jess .
United States
I recommend this product
05/15/2020
cute and sexy skirt
very cute skirt, matches well with my boots. great choice for autumn and winter outfit.
Lianne
United States
I recommend this product
03/08/2020
Cute skirt
Good quality and it goes with everything.
Jacky .
United States
I recommend this product
12/06/2019
so cute
i got this mini skirt with the ocre sheer blouse and i love these two worn together its so stylish. this skirt feels like it's very good qualiity its super soft and comfy. it's a liiiittle big on me as in the length isn't as short as i'd like (im 5'4" & 103 lbs and it hits past the mid thigh area on me) so maybe get a size down if you want it super tight fitting like i do. i couldn't wait to wear this skirt with the shirt from this store so I can't exchange anymore but oh well, i always get compliments every time i wear it out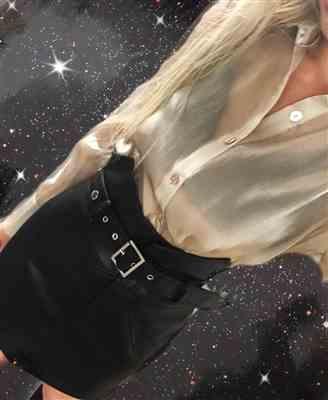 Kana .
I recommend this product
09/27/2019
great!
great quality great style. I love this leather mini skirt! ^_^