Suzy Grey Pleated Shorts
FINAL SALE

Grey wool high tied-waist shorts featuring box-pleated details. 

Close fit
No stretch
Heavyweight
Size runs small
Fits true to size: Model is 175 cm. / 5' 9" in height, Bust - 30", Waist - 24", Hip - 35.5" and wearing a size Small. 
Numbers shown on this size chart are based on flat product measurements and may differ from actual body measurements.
BUST
If possible, get a friend to help. With arms relaxed at your sides, measure the fullest part of your bust, keeping the tape parallel to the floor.
WAIST
Measure around your natural waist (bend sideways - the crease is it) Recommendation: keep one finger between the tape and your body.
HIPS
Stand with your heels together, and measure around the fullest part of your hips, keeping the tape parallel to the floor.
SHOULDER
Shoulder widths are shorter. Have a helping hand hold the beginning of the tape firmly against one side of the shoulder, perpendicular to the shoulder. Wrap the tape firmly across the bust and back of the shoulder blades so that the tape meets the first point. Where the beginning of tape hits on the tape is your measurement.
HEIGHT
Stand in stocking feet with your feet slightly apart and your back to a wall. Measure from the floor to the top of your head. Your height will determine whether you are PETITE, REGULAR, or TALL.
*Click on the image to view it in full size.
Customer Reviews
Olivia
United States
I recommend this product
07/07/2020
Super cute
In one night, I got soo many compliments on this pair of short shorts and had actually introduced this brand to another girl who is now a huge fan of J.ING. Fit & Sizing: My waist is 26.5in and I ordered a small. It sits high up in the waist and over my stomach and is not very forgiving if you're going out for a big meal since there is no stretchy material aka tight. It makes my short legs look slightly longer which is another big plus for me. Material: The wool exterior makes it warm enough to wear in the winter and the polyester inside makes it easy to slip into and comfortable to wear.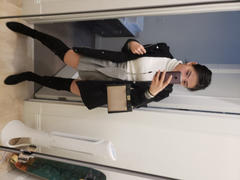 Chloe
United States
I recommend this product
Cathy
United States
I recommend this product
06/24/2020
Small but Cute
Cutest short I've ever had. Size runs small tho.
Vivian
United States
I recommend this product
04/19/2020
Cute but Tight Fit
I love the pleated look on these shorts. It does run a bit small though, so I would order a size up. The belt is definitely a nice touch.
Eva
United States
I recommend this product