Heidi Skirt
FINAL SALE

WinterPromo
Grey mini skirt with an A-line silhouette, accordion pleating and double-breasted button decorations.
No stretch
Litghtweight
Regular Fit
Fits true to size: Model is 175 cm. / 5' 9" in height and wearing a size Small.
Materials
: 96% Polyester
                  4% Spandex
BUST
If possible, get a friend to help. With arms relaxed at your sides, measure the fullest part of your bust, keeping the tape parallel to the floor.
WAIST
Measure around your natural waist (bend sideways - the crease is it) Recommendation: keep one finger between the tape and your body.
HIPS
Stand with your heels together, and measure around the fullest part of your hips, keeping the tape parallel to the floor.
SHOULDER
Shoulder widths are shorter. Have a helping hand hold the beginning of the tape firmly against one side of the shoulder, perpendicular to the shoulder. Wrap the tape firmly across the bust and back of the shoulder blades so that the tape meets the first point. Where the beginning of tape hits on the tape is your measurement.
HEIGHT
Stand in stocking feet with your feet slightly apart and your back to a wall. Measure from the floor to the top of your head. Your height will determine whether you are PETITE, REGULAR, or TALL.
*Click on the image to view it in full size.
Customer Reviews
Teresa F.
United States
I recommend this product
11/06/2019
Quality Skirt! Runs Small —< SIZE UP
The quality and structure of this skirt is amazing. I wish I ordered a size up because this skirt runs SMALL. I order XS usually because bottoms run big at most stores but a S would have been perfect. I can still wear the XS but eating a big meal was not the most comfortable.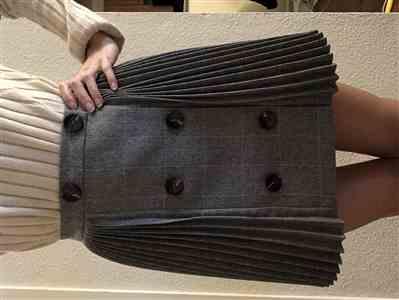 Brenda
I recommend this product
08/02/2019
Beautiful but very tight
I love this skirt, but! I'm a size M and it was just kinda tight on the waist. Did not wanna size up cus I could probably just shrink the waistline. But it's a beautiful style and pretty preppy
Jordan S.
I recommend this product
06/25/2019
I wanted to love it but it was just too small
I really was excited for this skirt, but it is something I will be sending back. The skirt itself is really well made. The pleats are going to look good after being worn over and over again. You can tell thought and craftsmanship went into designing this skirt. However, the skirt was too small and too short once I received it. I ordered a large for my measurements (US 8/10, 5'56", 155lbs, 36D) and got what felt like a S/M leaning toward the small side. The fabric felt great, the plaid was subtle and cute. Just the actual sizing wasn't great for me. The length made it feel if I ask much as went on my tippy toes it would make things more visible than I would prefer. If they had more sizes or maybe some stretch, which most of the clothes don't, maybe it would be more doable.