We put together 4 complete Ensembles To get You Excited for the Fall Season...
It may still be summer, but as the temperatures start to drop off the thermometer, you're going to need to start thinking about your transitory summer-to-fall outfits for the nippier months that are coming after August. With J.ING's brand new Pre-Fall Collection, Somewhere in Time, you're able to come up with endless outfit combinations to create the perfect pre-fall look, and we've made it even easier by putting together four of them for you! 
Inspired by the maritime-inspired uniform color of navy blue and white, this ensemble is a gorgeous way to wear the long-loved pinstripe pattern while looking drop-dead gorgeous. This look is perfect to wear for your last summer hurrah before the cold grips us. Wear it on a romantic evening out with your beau, or to any summer party you want to make a grand entrance in. It's sleek, playful and will give you more allure and prowess than a deadly siren mermaid luring sailors to their watery grave. We caution all who wear this to do so in caution!
The Navy Pinstriped Bodycon Dress and Navy Pinstriped Crop Top by J.ING pair together perfectly, with the bodycon dress hugging the curves and creating a feminine silhouette with the cinched waist. With a white balconette feature and mini skirt length with modest slits in the front, this dress will have all in it looking like a knock-out. Our Navy Pinstriped Crop Top can be worn as a top by itself or as a lightweight blazer over the dress. Of course, you must top off this flawless look with some beautiful accessories, and J.ING's Seeing Eye Ring and Double Eclipse Earring are perfect for this ensemble. Wear a pair of strappy black heels like the ones below from Sam Edelman's Yaro Ankle Strap Sandal and you'll be rocking the Navy Baby look!
2. Emrata Inspired Outfit
Emily Ratajkowski is a fashion icon these days - and for good reason! The style-savvy beauty can rock any outfit and look absolutely stunning doing so. 
We love her street-style look and were inspired to create one by J.ING. J.ING's Tasha Tan Loose Blazer is the perfect dupe for Emrata's beige oversize blazer, worn over J.ING's white Bowlen Tee paired with black biker shorts from Amazon and a pair of leopard-printed high heel mules by Beyond Skin. J.ING's Smith Earrings are the finishing touch to this already-sizzling ensemble. 
It's the perfect look for summer, but the blazer adds a touch of color while also providing warmth. Wear this casually chic ensemble and easily transition from a day-to-nighttime look.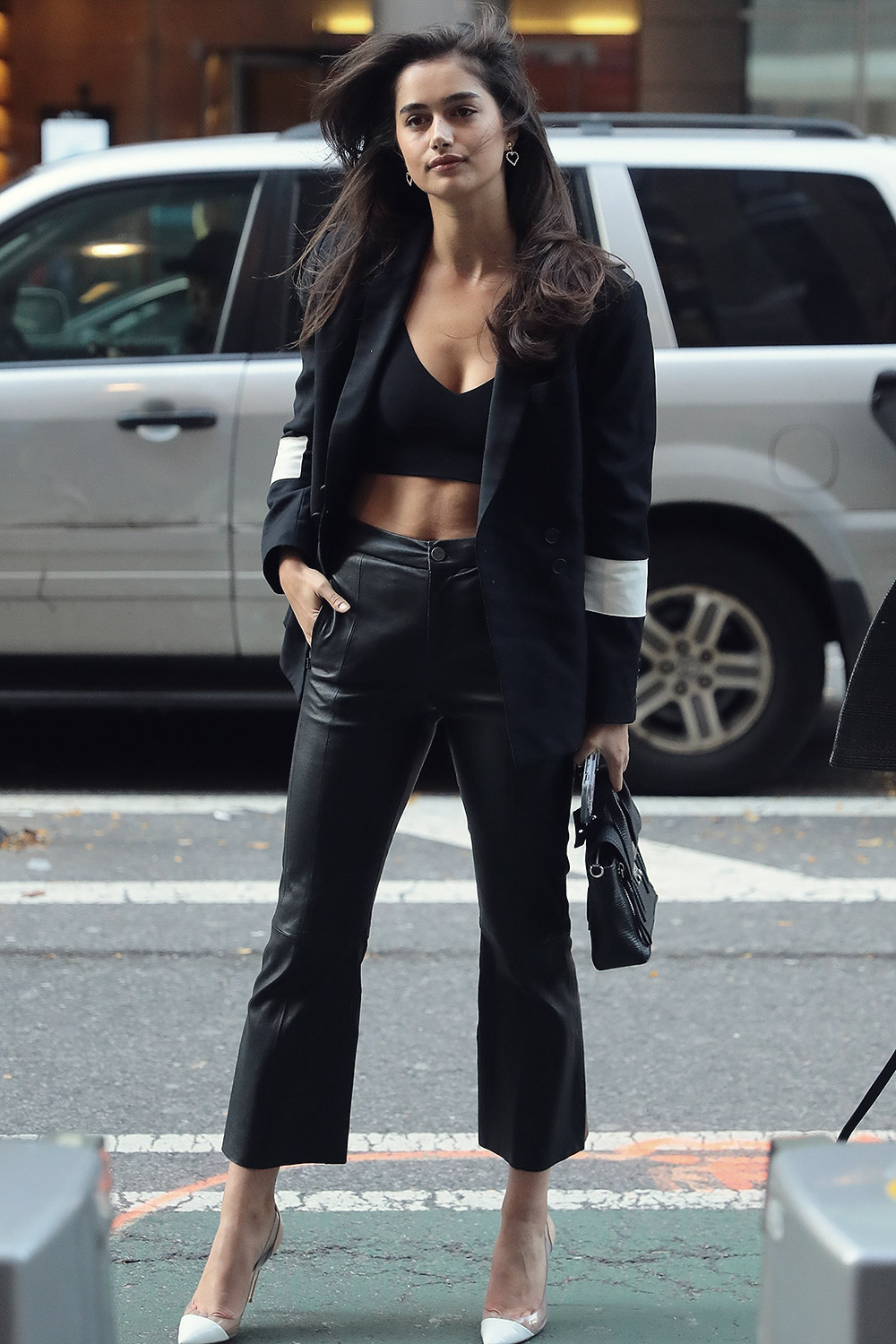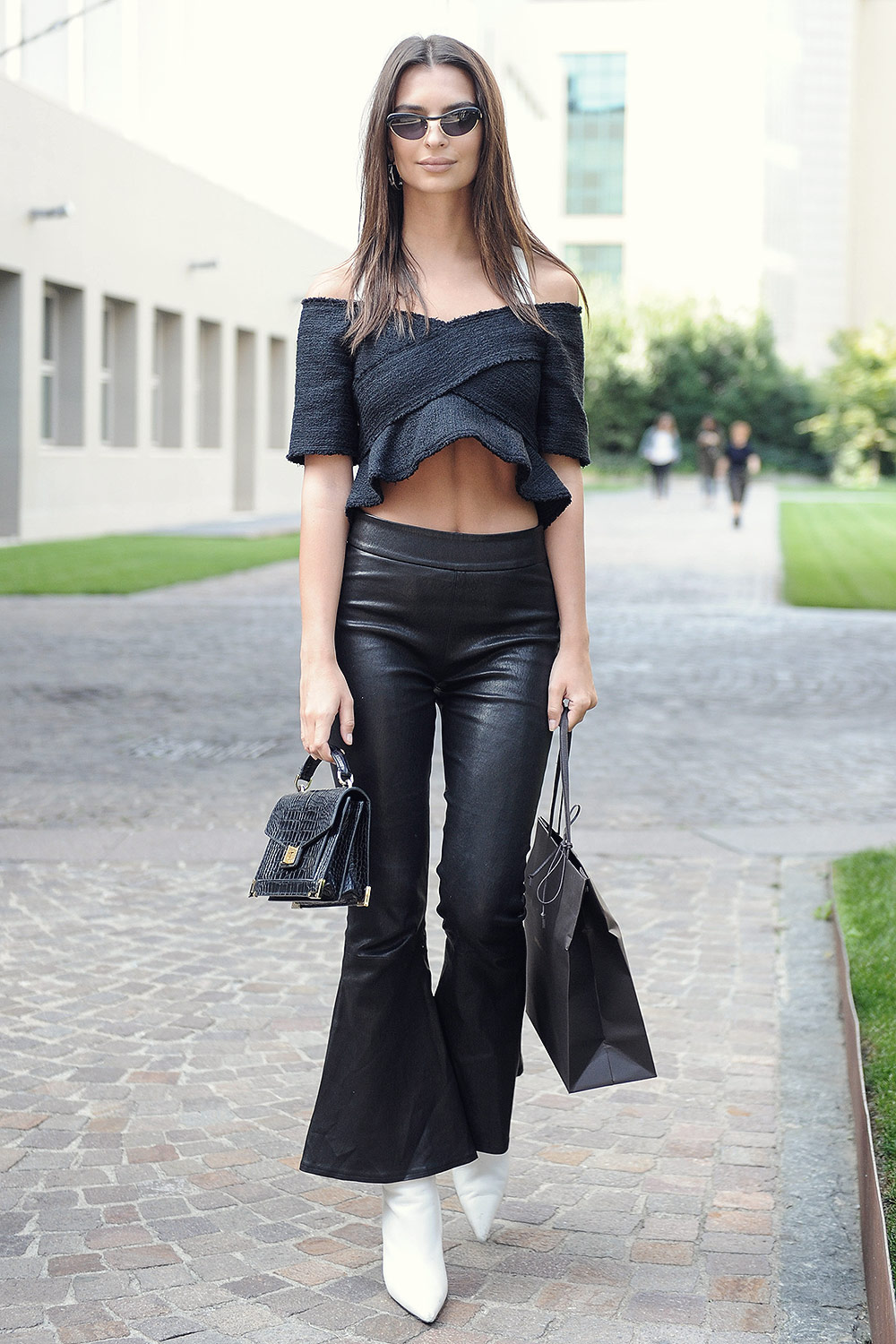 A great leather ankle-looking pant isn't for the faint of heart; one can't simply wear the leather look, they must rock it. We love Maia Cotton and Emily Ratajkowsk in their leathers, and their confidence smolders in this look. We put together this vintage-inspired look that's reminiscent of the early '70s Disco-Glam era. 
The Blush Satin Tie Blouse by J.ING is a perfect top to wear with the Lexi Black Leather Bellbottoms by J.ING, with both giving off a slight sheen on their surface. Adorn J.ING's Meteor Shower Earrings for a dazzling way to add some sparkle in your vintage-inspired look. Wear a pair of blush-pink strappy high heel sandals like Wittner's Royal Heel. 
We imagine this would be a perfect ensemble to wear on your first romantic rendezvous in the Fall season. It's a great way to start off a new season looking lavish. 
Welcome in the Fall in full gear! We love the recent trend of beige with white, and we think it's a perfect outfit to wear when the colder weather comes in. 
The great thing about a white miniskirt is that there are countess combinations of styles it can work with. J.ING's Winter White Wrap Skirt is gorgeous when paired with J.ING's Ryder White Jean Jacket. We decided to make this look Fall-Ready with a beige Wool Cashmere Turtleneck Sweater by Cuyana and a pair of tall beige riding boots like the Rowena by Sam Edelman. Top it off with J.ING's beautiful Outline Earrings and you'll be a delight in beige and white.